This weekend I was in the Okanagan visiting my parents and partaking in a few of the
Fall Wine Festival
festivities. When I was in the Okanagan this summer I signed up for
Tinhorn Creek's
Crush Club. If you commit to buying a mixed case of wine from them each year then you get 15% off of wine from their shop, plus special invites to a few events. This weekend was the pick up party for my half a case of red, so I figured it would be worth a trip out there. Of course, also a bonus was a chance to see my favourite Scottish Terrier again, Maggie.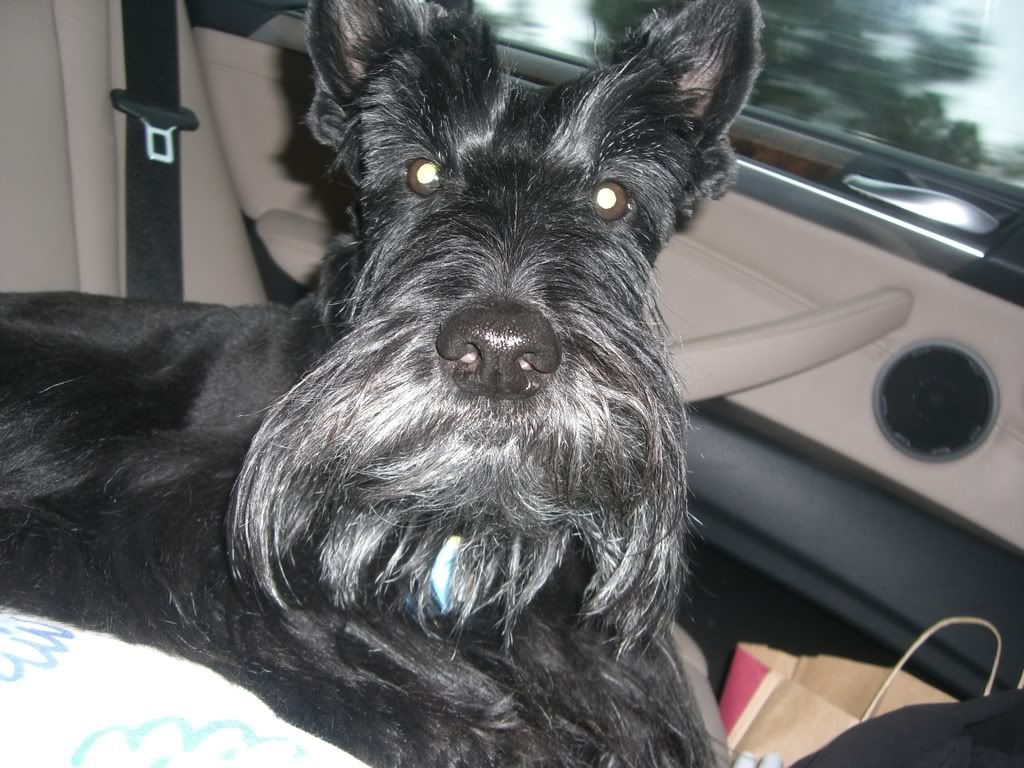 I caught the final flight out of Calgary on Friday night and arrived in time to have dinner with my parents and then called it a night. Because we had to drive down to Oliver in time for the pick up party on Saturday I didn't really have a chance to get my long run in. Oh well, it was raining when I woke up, so I wasn't too upset about it. Once we parked at Tinhorn we were warned that we shouldn't be wandering around the vines on our own too much...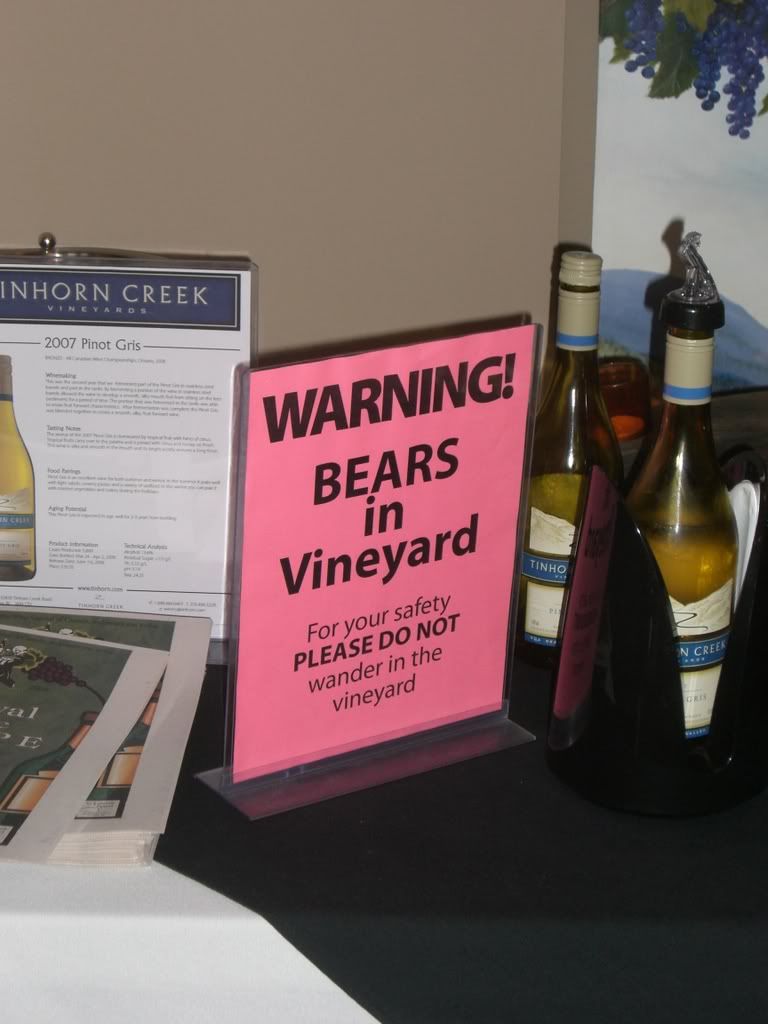 The party was a good time. I got my wine, and then we were all treated to a lunch of burgers (being cooked by the winery owner himself), some assorted salads, and two glasses of wine of our choice. Delicious! There was also a band and some draw prizes, so it was quite the event. The afternoon was spent tasting at a couple of different wineries, and then in the evening it was on to
Sumac Ridge
for a special dinner with the winemaker. Sumac was one of the first wineries in the Okanagan to make a sparkling wine and they were offering a five course dinner to be paired with various new and library releases of their sparklers. It was pretty fantastic stuff...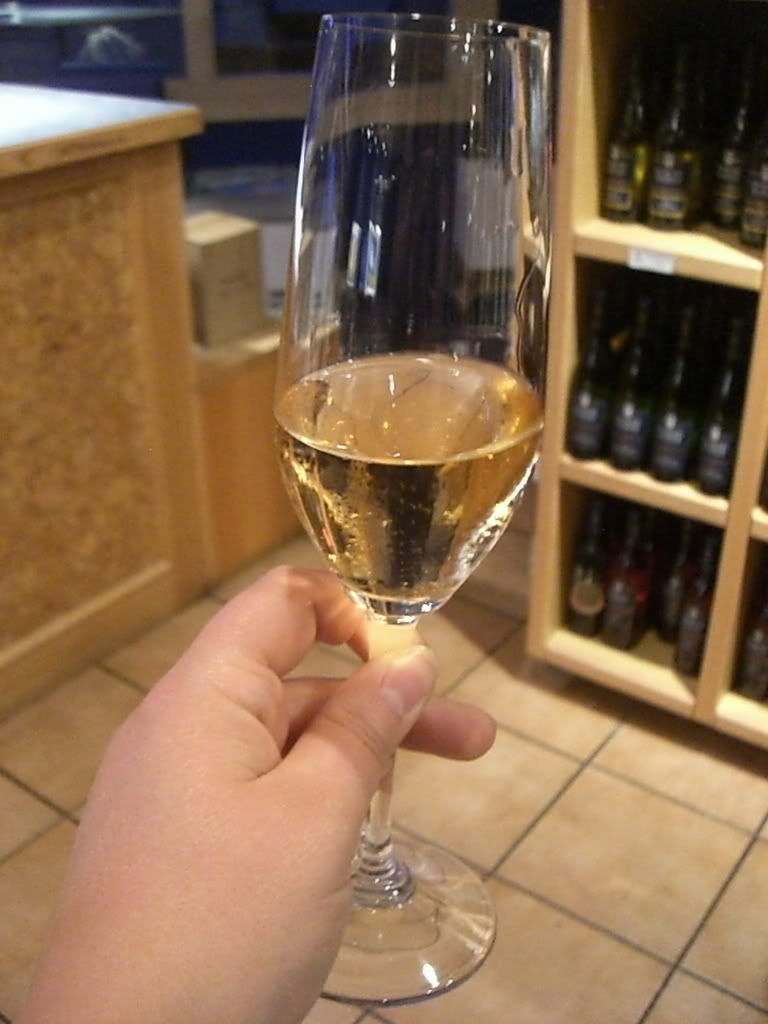 So that took care of Saturday, and then I needed to get my run in on Sunday. I might have been a wee bit dehydrated (cough, cough), so I was fully prepared for disaster. On the schedule? An hour and a half run with three - 10 minute steady state intervals to be run in upper HR zone 2 to lower HR zone 3. Interesting... I had set the workout up on Garmin Training Center and I knew as soon as I got started that I had made a mistake. I was supposed to warm up in zone 2 and I'd made that a goal in my workout. Because of all of the hills around where I was running (and I started off running downhill) I was having a tough time getting into zone 2. Having my Garmin beep at me continuously telling me that my heart rate was too low? Annoying... Finally my warm up was over and I hit the first interval. I poured the speed on for a bit, then hit some hills that helped to keep my heart rate up. Running to heart rate was interesting. Because of all of the hilliness I found it hard to really hit my stride since if I tried to keep my pace going up the hill I skyrocketed out of zone 3. By the time interval number two came around I smartened up and managed to run on fairly level terrain for most of it. I was feeling good, which was totally unexpected! I decided to run somewhat of a loop from winery to winery. I headed off to
Mount Boucherie
, ran past
Quails Gate
, then ran up the big hill to
Mission Hill
. I finished up with 8.5 very hilly miles for my hour and a half run.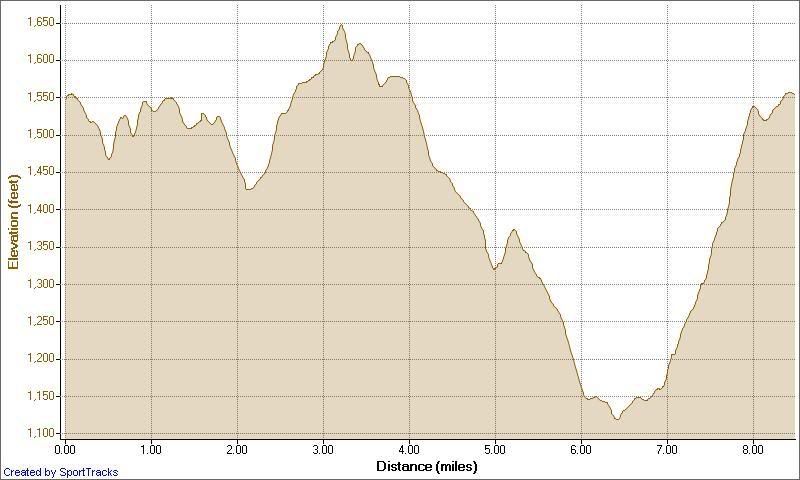 After the run it was time to head off to
See Ya Later Ranch
for their annual pig roast. The event was amazing! Fantastic food, and there was quite the amount of wine available for consumption (cough, cough).
After the pig roast it was time to head back to Kelowna so I could catch the last flight out to Calgary for the evening. It was a short, fairly whirlwind trip, but I had a great time seeing my parents, enjoying the festivities, and I even got a terrific run in!