This week is feeling more like summer around here, so I was pretty excited for my group ride last night. It was back out to Horse Creek in Cochrane, and we had a pretty good sized group show up. We were a bit late taking off as we had some flat tire issues to contend with first, but the aim was to ride as far as we could without losing daylight on the way back. As per the last few rides I wound up being on my own on the way out. I'm not sure how the group manages to get so far ahead...? My legs were feeling pretty tired and I expected to ride it out after a few minutes but it never really did go away. I just kept plugging along and enjoying the scenery. There was a group of deer out in one field, in addition to the usual group of horses and cows. At one point the group looped back to pick up the stragglers and I wound up riding with a lady who works about a block away from me, and is now training for her first Ironman. Once we started riding together and chatting I was able to keep up quite a bit better on the hills. Today we didn't make it to the stop sign before having to turn around. Boy, the days are getting noticeably shorter, day by day. With the sun going down the temperature was cooling off as well. I rode back most of the way with another girl that just finished her first Ironman. Her enthusiasm was amazing, she had the best day and really enjoyed the experience. Apparently her Ironman marathon time was 35 minutes faster than her stand alone marathon time..! We were back at the cars before long, and clocked just over 15 miles for the ride. I loaded the bike up in the car and took off home.
---
This morning when I woke up I looked at my hands and realized my
engineering ring
was gone. You can see my engineering ring on my right pinkie in the picture below (as I'm drinking from a bowl of alcohol that is larger than the size of my head):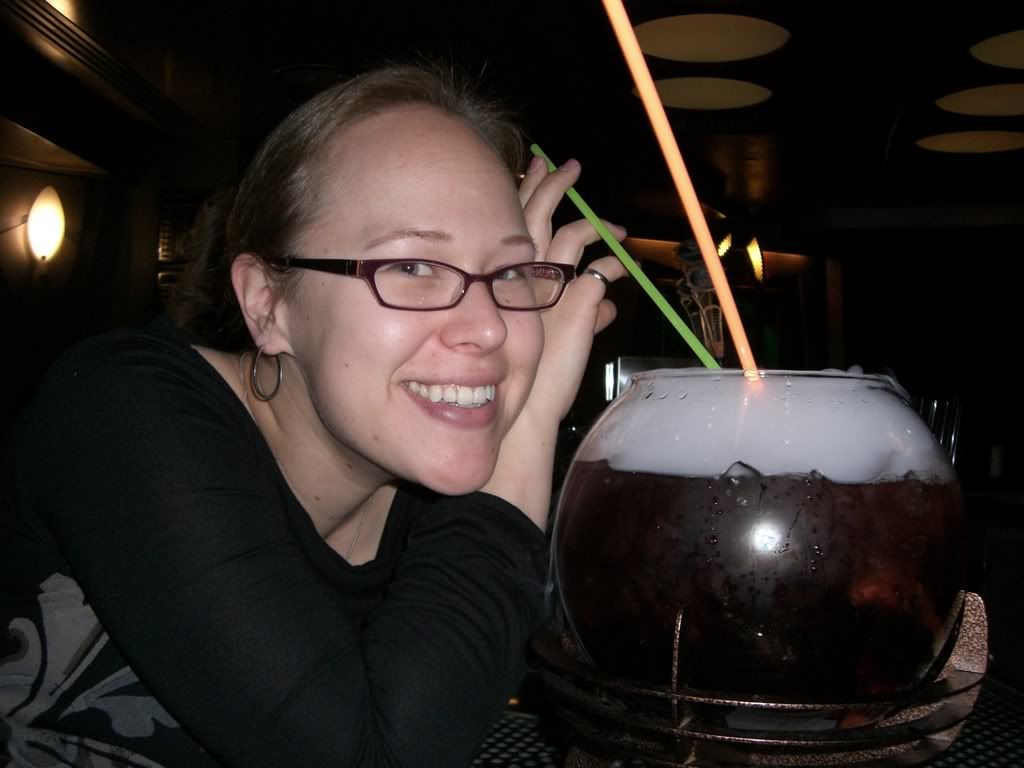 I lost my ring a year ago
, and since I only take my ring off to swim I was worried that it was lying on the side of the road in Cochrane, most likely haven fallen off while taking my gloves off. I ran down to check my gloves anyway, which were still in the back of my car...and lo and behold, my ring was sitting in the trunk of my car... Phew! Sounds like I may need to take it off not just for swimming, but for biking too...