Winter boots...allowing for the resurgence of the "tuck and roll" concept:
Sunday morning arrived and I was out the door at 8 am. I was carrying citrus nuun in my Camelbak and three Gus with me (Tri-Berry, Chocolate Outrage and Chocolate Mint). I'm definitely liking the nuun/Gu combo for nutrition and hydration. In hindsight I wish I would have gotten out the door an hour earlier... When I left the sidewalks were bare, but about 5 minutes in to my run the odd errant snowflake was floating around in the air. The run was feeling great - my heart rate was low, pacing felt easy...all was going so well. In fact, I wasn't trying harder, but I was running faster than last weekend. Initially the snow was melting when it hit the ground, but it didn't take too long for it to start accumulating. As the snow kept flying it became apparent that it wasn't going to let up anytime soon. I downed my Gus at miles 5, 10 and 15 and sipped on nuun about every 20 minutes or so. Right around the 15 mile point the amount of snow on the sidewalks was becoming insane. You can see that the shift happened so quickly on my pace chart below. All of a sudden it felt like I was running in sand and I was just losing a ton of energy.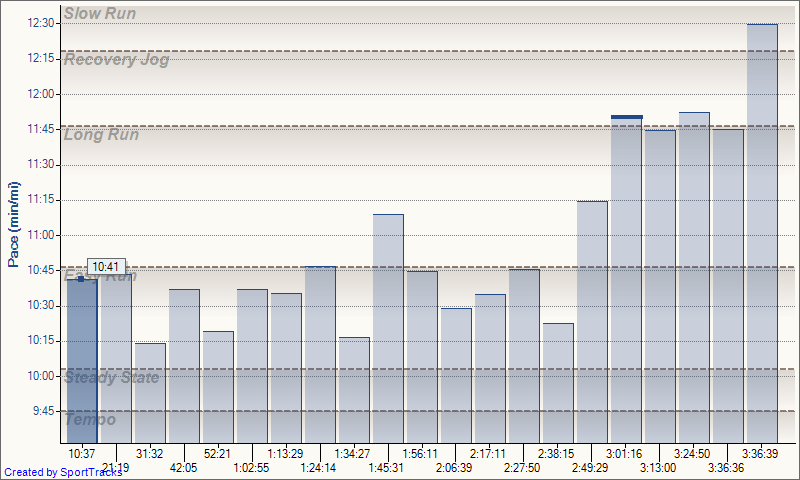 *You can ignore the final pace bar since that is for the two seconds after mile 20 clicked off on the Garmin, but I didn't hit the "stop" button right away.* I felt so strong going into those last 5 miles and I was so ready to knock them out, but Mother Nature had something else in mind for me. All of a sudden I was just ready to be done slogging through the snow. Despite telling myself that I was stronger than this my legs just weren't having it. This was what it looked like when I got home, just over 3-1/2 hours later:
I figure we probably got about 5 cm of accumulation while I was out. Everything I had on was completely soaked - socks, shoes, tights, t-shirt, top, gloves and hat. I changed into sweats right away to warm up and downed some eggs, bacon and hot chocolate. I had intended to head in to work once my run was done, but after seeing all of the cars sliding around my neighborhood (and reading the heavy snowfall warning) I decided to just hang out at home. I figured this would be a great opportunity for me to catch up on laundry and maybe make a proper meal for dinner. Shortly after finishing my lunch the tiredness hit and I wound up napping on the couch for almost three hours! So much for getting stuff done around the house, but I did make it out for groceries and wound up fitting in my recovery spin, core and stretching. I am slightly disappointed in how this run ended up as I would have loved to finish stronger, but I'll have a chance for redemption in two weeks on my final long run. 35 km or 21.75 miles...